Commercial Security
---
Access Control Systems
If your business needs include restricting access to your building at various times of day and monitoring who comes and goes, then an electronic access control system is the solution that will best fit your needs. ASMD access control systems can be configured to restrict access to specific hours, to select employees, and even to deny access during off hours.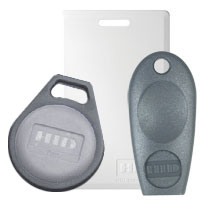 Utilizing proximity cards, keyfobs or biometrics, each employee can be managed by the access control system and configured to have individual parameters that only allow them in specific doors when you want them to or even not at all. You can now even manage employee access using the internet rather than just on a local server. This is especially useful if you have multiple buildings that you need to control and have employees that might need access to more than one. Even if your needs are just to keep people from entering your business without you knowing first, simple access control could be the solution.
ASMD offers a variety of access systems that can be easily integrated with your security system to allow simplified usage or that can operate as stand alone units to provide maximum security. Additionally, ASMD can even add a camera system to give visual verification when someone enters or exits.
Have ASMD give you an On-Site Evaluation and Estimate
Our staff is available to provide an onsite estimate and will examine your situation and design a professional system that best meets your business needs. Contact us today to schedule an estimate and evaluation of your specific needs.
Think you already have a good idea of what you want?
No problem simply call us and provide us with the details of your site and what you want. Please be prepared to provide details like:
Number of doors?
How many users?
Number of buildings needing control?
Type of access required; keyfobs, cards or biometrics?
What form of egress is required?