Commercial Security
---
Burglary / Intrusion Detection

Security System Devices
Keypads
An alarm keypad is the main interface to your alarm system. Alarm systems can have more than one and, in businesses, will usually be installed near doors that you or your employees enter and exit through. Keypads can come in different styles and varieties, but the choice will always be up to you as to which one suits your business best.
In smaller buildings with just a few zones, a basic LCD keypad with a fixed display works nicely and is cost effective. These keypads will display a number on the LCD screen that references a zone, which the user would cross reference to the provided zone list.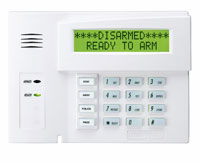 Larger facilities with many zones would be better suited with a keypad that features an alphanumeric display which shows custom zone descriptions in plain english on the screen for easier zone identification when trying to identify a trouble condition.
Although a slightly more in cost than it's LCD counterpart, an alphanumeric keypad suit's most medium to large size businesses and thus is one of the most popular options selected by our business customers.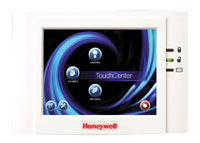 In high end business situations or for more tech savvy customers, touch screen keypads are available. These keypads are the most expensive, but over the added benefit of simplification of usage. Touch screens make it easier to identify open zones, and allow for increased system functionality.