Commercial Security
---
Burglary / Intrusion Detection

Selecting the Right Control Panel
Zones and Users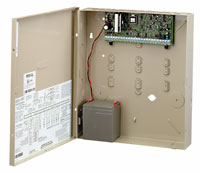 The control panel is the main "brain" of a security system and serves as the interface with all the zones connected to the system. Zones are individual areas or points in an alarm system. At least one device (door, window, motion detector, glass break sensor,...etc.) is connected to an active zone and, in some situations, a zone could have an entire section of a building on it.
Depending on the model selected, control panels can vary in zone and user capacity (the number of people who will be operating the alarm system). Most control panels start with 6 or 8 zones and can expand, using zone expansion modules, up to 32, 48 or even hundreds of zones.
When considering what type of system is the right fit for your business, the number of zones and the number of users it can support are key considerations as they directly relates to the size of your building and staff. The number of possible points of entry you both need to cover and desire to identify in order to pinpoint where a break-in occurs will help guide your decision on which control panel model you need and want.
For example you may only want to know if one of many overhead doors in a warehouse has been opened and might consider it perfectly fine to put all the overhead doors in your warehouse on one zone. On the other hand you might want to be more specific in identifying a particular door or location in your building which would require more zones in order to more accurately pinpoint the location of an intrusion.
In addition to zone and user considerations you may also need to think about the way your business operates. In some cases you may need a control panel that offers system partitioning (one control panel operating as more than one alarm system).