Commercial Security
---
Burglary / Intrusion Detection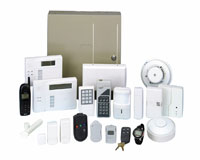 As business owners, we all have those times when the needs of our businesses are outside of our areas of expertise. When needs like these arise we need the help of professionals who can assist us in making the best choices for our business while maximizing our return on investment. Business security is no exception to this tried and tested methodology. ASMD is your security professional. Our staff will design and install custom intrusion solutions for your business that focus on your company's unique security needs.
Smart Systems that Can Do More Than Security
Need more than basic security? ASMD has all the latest technologies available that allow our systems to be fully integrated with high-end automation systems. We also offer solutions for special considerations like environmental control and/or exterior perimeter protection needs. ASMD has the know-how to take your system to the next level.

If you would like a free assessment of your business security needs, contact us today!
Want to Learn More About Security Systems?


If you are interested in better understanding what considerations go into putting together the best system to meet your needs, the best place to get started is learning about the control panel or the "brains" of the system. Once you have an understanding of the foundation of the system, consider what devices are needed to protect your business.
We have done our best to break down all the major considerations for those seeking to add an alarm system to their list of important investments in their business. For a detailed analysis of your security needs, contact a ASMD representative today and Go ASMD!